Sheikh Hasher Bin Maktoum Al Maktoum, Director General of Dubai's Department of Information, Opened CABSAT 2017
​Dubai, UAE, March 21, 2017--His Highness Sheikh Hasher Bin Maktoum Al Maktoum, Director General of Dubai's Department of Information, today opened CABSAT 2017 - the definitive event for broadcast, satellite and entertainment content sectors across the Middle East, Africa and South Asia (MEASA).
The 23rd edition of CABSAT, running 21-23 March, 2017 at Dubai World Trade Centre (DWTC), makes it the leading platform for the broadcast, production, content delivery, digital media, and satellite sectors across the Middle East, Africa and South Asia (MEASA). The event fosters disruptive innovation, creation, distribution, and monetisation opportunities across the MENA film and audio entertainment media market.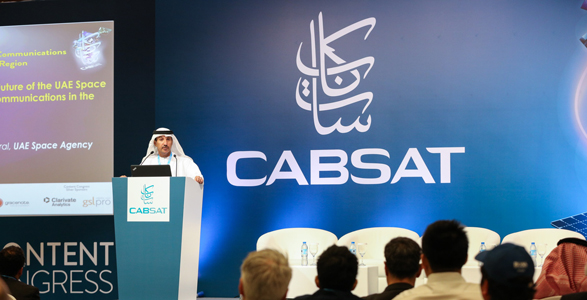 With more 13,000 media industry professionals in attendance in 2016, the region?s premier media and content event has moved from strength to strength in its 23 year history. Sheikh Hasher was guided through the Dubai World Trade Centre (DWTC) exhibition by His Excellency Helal Saeed Almarri, Director General of Department of Tourism & Commerce Marketing (DTCM) and Dubai World Trade Centre Authority.
The media landscape is undoubtedly transforming in the region, following in tandem with global trends. There are 2.4 million pay TV subscribers in the MENA region with just three leading market participants. The entry of MBC endorsed GOBX in KSA will likely further open up the total addressable market. With growing penetration of smart TVs, this stands to be transformational in the long term for OTT video services and video on demand.
CABSAT is the hub for the media industry in the region. As the leading exhibition of its kind, CABSAT provides a strategic entry-point and platform to a regional audience eager to consume and create media. CABSAT will highlight the wealth of disruptive and transformative technologies that are fast creating new monetisation avenues for telcos, broadcasters, content producers, OTT channels and satellite providers alike,? said Trixie LohMirmand, Senior Vice President, Events Management, DWTC.
There are over 15 local OTT platforms operating in MENA, besides international participants who have a presence in MENA. A dedicated arena for TV and film content creators, production houses and studios, distributors of content, producers, editors and advertising houses, CABSAT?s Content Delivery Hub focuses on Over The Top (OTT) technologies that facilitate the delivery of video or digital content via internet protocol and purpose built platforms for 'anytime, anywhere' consumption.
An expansion of CABSAT?s broadcast-related satellite profile, the co-located SATEXPO Conference will deliver satellite communication solutions and technologies to numerous industries across the MENA region on the first day of the event, 21 March 2017.
The Content Congress will return with support from Diamond Sponsor, Irdeto; Platinum Sponsors, Ross Video, Huawei and Viacom; Gold Sponsors; Dolby and Gracenote; and Silver Sponsors; GSL Pro and Clarivate Analytics, hosting industry leaders for the fourth year running.
Speakers from 20th Century Fox, Starzplay, beIN, ICFLIX, TwoFour54, Iflix and MBC are among the leading companies Middle East taking the stage at the Content Congress to discuss the latest innovations and trends in the industry.
Elsewhere at CABSAT, ten teams of developers will strive to create the best TV app with the Metrological SDK in 48 hours at the CABSAT Appathon. Prizes are up for grabs and the winning team gets the chance to pitch their app to telco operators, offering a total reach of over 40 million households worldwide.
CABSAT 2017 will also host the Global Meetings Programme, CABSAT TV, Content Studio Hub and the GVF Satellite Hub Summit, providing industry professionals a variety of platforms for networking and knowledge exchange.
Open free-of-charge to business and trade visitors only, CABSAT 2017 is open from 10am to 6pm on Tuesday 21 and Wednesday 22 March, and 10am to 5pm on Thursday 23 March. Visit www.cabsat.com to find out more.