CPI Appoints Fickett CEO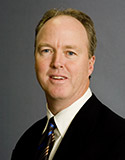 Palo Alto, Calif. May 1, 2017--Effective May 1, 2017, Bob Fickett will assume the role of chief executive officer of CPI International, Inc., which is the parent company of Communications & Power Industries LLC (CPI) and Communications & Power Industries Canada Inc. (CPI Canada). Fickett has served as president and chief operating officer of CPI International since March 2002. He will retain his current roles at CPI, where he has served as president since March 2002 and as chairman of the board of managers since December 2015.
Fickett replaces Joe Caldarelli in the chief executive officer role at CPI International. Mr. Caldarelli will transition to a new role as vice chairman of CPI International, and will continue to serve in his current roles as a member of the board of managers of CPI and as president of CPI Canada.
"It has been a privilege to serve as the chief executive officer of CPI International for these past 15 years, but the time has come for me to take a less active management role," said Mr. Caldarelli. "I have full confidence that Bob Fickett, who has been my partner in managing the company these many years, will continue to lead a strong, vibrant CPI to many future successes. He is an accomplished and talented leader, and he is well-liked and thoroughly respected both within the industry and within the company."
"On behalf of the company, I would like to thank Joe Caldarelli for his 35 years of contributions to CPI International," said Mr. Fickett. "Under Joe's leadership, our revenue grew from approximately $250 million in fiscal 2002 to $495 million in fiscal 2016. We evolved from focusing almost solely on vacuum-based technology to incorporating solid-state based technology, advanced antennas, radomes and many other complementary products and services into our product offerings, without ever losing sight of who we are as a company or what our customers need from us. It has been a pleasure working with him, and I look forward to continuing to working together in our new roles at CPI International."
Fickett joined CPI's predecessor company, Varian Associates, Inc., in 1982. He holds a B.S. in mechanical engineering from the University of California, Berkeley