DEV Systemtechnik Launches MODULO HFC Solution

Friedberg, Germany, December 8, 2017–DEV Systemtechnik (www.dev-systemtechnik.com) released their new product line MODULO HFC. This modular solution for HFC (Hybrid Fiber Coax) networks provides numerous modules to transmit RF signals either electrically or over fiber optic. MODULO is ready for DOCSIS 3.1 and comes with high density, high availability and optional manageability. All modules, active or passive, fit in one chassis.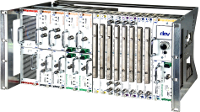 MODULO HFC includes passive and active modules: Splitters/Combiners, Equalizers, Amplifiers, Redundancy Switches, Optical Receivers and Transmitters. It supports Coax and Fiber as well as Upstream and Downstream transmission in one frame. Up to 18 active modules fit in a high-density 5 RU frame. DEV Systemtechnik also offers a 3 RU chassis for active modules only, a 2 RU chassis for active and passive modules is coming soon.
"Cable Operators are faced with the critical challenge of significantly increasing the efficiency and capacity of their existing HFC networks in order to support the growing bandwidth demands for broadband service." Thomas Gröninger, Production Manager at DEV Systemtechnik, says, "To support cable network operators in upgrading to DOCSIS 3.1 standard we developed our new MODULO product line. We engineered all parts with customer needs in mind. Finally we are able to offer universal components with various configuration options that are easy to integrate in an existing M&C system," Gröninger added.
DEV Systemtechnik develops and produces a complete range of next generation high performance products and systems, for the optical and electrical transmission of Radio Frequency (RF) signals in HFC cable networks. For over 20 years we have designed, engineered, and manufactured RF transmission equipment for satellite, broadcast, and cable applications. All products are Made in Germany and built to meet the highest standards of system availability, reliability and manageability.
Related Articles:
DEV Systemtechnik company profile